I LOVE SIMPLE CRAFTS, AND THIS IS ONE OF THEM!
This was a super fun craft for me to create!
I purchased an unfinished wood frame from a local wood working company, quickly painted it black with craft acrylic paint, and drilled a small hole through the top.
Using a little craft wire I simply made a small loop that I placed through the drilled hole, and then made a simple loop knot on the top of the frame with the wire to keep it from slipping back through.
I hung my gorgeous heart ornament

(I purchased it at Hobby Lobby)

on the loop inside the frame, and then by tying some ribbon to the loop on top of the frame, everything came together perfectly!
The cute words are simple vinyl lettering...imagine all the fun things your saying could be!
Try making these. Unbelievably easy, and use your creative imagination to make these for every holiday!
We love linky parties, and we have linked up here: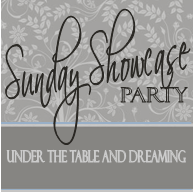 This valentine frame was chosen to be featured here: