Stephanie for UNDER THE TABLE AND DREAMING has been a part of our blog several times. She has the most amazing idea's and crafts! We love visiting her for inspiration and dang great idea's! Here is another flower tutorial that we LOVE!!!
Here is a quick and easy way to add a little charm to your gift packages.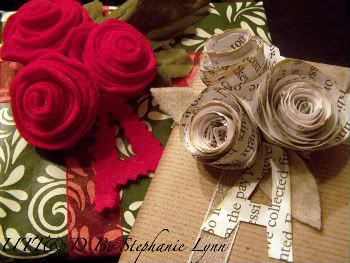 I know a lot of bloggers have extra book pages from all the fabulous paper projects floating around. Here is a way to use some of those scraps so that nothing goes to waste! You can also make these with scrapbook paper, cardstock, fabric and of course felt as shown above.